In 1972, Richard Serra presented his (apparently famous) Verb List, after using it to great success in his sculpture work.
In 2006, I was presented with what I think must be a version of this from one of my lecturers at University. Now looking back, being presented with that document was one of the turning points of me as a student and as an artist. It helped me to not only look at my work differently but also to view the world through a different lens. It helped me to see that any material, be it text, image, movement, sound or idea, could be manipulated in such ways as to make it new, and not only that, by doing the same or different actions with multiple materials I discovered new and interesting connections between those things.
Now in 2014, I was listening to another TED talk, this time from Julie Burstein about
creativity
. And she talked about Serra's Verb List and it reminded me of that similar list that I received. These words are a fantastic resource for anyone who is working creatively. With the right outlook it's possible to apply the verbs to so many things, including ideas, for new and interesting possibilities and it's especially useful when devising theatre.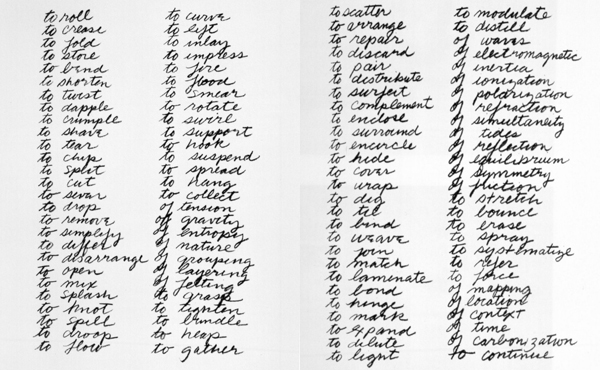 I'll be using them in some of my workshops coming up and will post explanations and results, but in the mean time here is the list digitally in case you are interested:
TO ROLL
TO CREASE
TO FOLD
TO STORE
TO BEND
TO SHORTEN
TO TWIST
TO DAPPLE
TO CRUMPLE
TO SHAVE
TO TEAR
TO CHIP
TO SPLIT
TO CUT
TO SEVER
TO DROP
TO REMOVE
TO SIMPLIFY
TO DIFFER
TO DISARRANGE
TO OPEN
TO MIX
TO SPLASH
TO KNOT
TO SPILL
TO DROOP
TO FLOW


TO CURVE
TO LIFT
TO INLAY
TO IMPRESS
TO FIRE
TO FLOOD
TO SMEAR
TO ROTATE
TO SWIRL
TO SUPPORT
TO HOOK
TO SUSPEND
TO SPREAD
TO HANG
TO COLLECT
OF TENSION
OF GRAVITY
OF ENTROPY
OF NATURE
OF GROUPING
OF LAYERING
OF FELTING
TO GRASP
TO TIGHTEN
TO BUNDLE
TO HEAP
TO GATHER


TO SCATTER
TO ARRANGE
TO REPAIR
TO DISCARD
TO PAIR
TO DISTRIBUTE
TO SURFEIT
TO COMPLIMENT
TO ENCLOSE
TO SURROUND
TO ENCIRCLE
TO HOLE
TO COVER
TO WRAP
TO DIG
TO TIE
TO BIND
TO WEAVE
TO JOIN
TO MATCH
TO LAMINATE
TO BOND
TO HINGE
TO MARK
TO EXPAND
TO DILUTE
TO LIGHT


TO MODULATE
TO DISTILL
OF WAVES
OF ELECTROMAGNETIC
OF INERTIA
OF IONIZATION
OF POLARIZATION
OF REFRACTION
OF TIDES
OF REFLECTION
OF EQUILIBRIUM
OF SYMMETRY
OF FRICTION
TO STRETCH
TO BOUNCE
TO ERASE
TO SPRAY
TO SYSTEMATIZE
TO REFER
TO FORCE
OF MAPPING
OF LOCATION
OF CONTEXT
OF TIME
OF CARBONIZATION
TO CONTINUE